INTRO: Cerebral tumefactive amyloid is a rare mass like form of cerebral amyloid.
PATHOLOGY: Caused by vasculitis +/- perivasculitis which is an autoimmune response to the amyloid deposition.
KEY IMAGING POINTS:
MRI findings similar to a glioma/ treated lymphoma with T2 hyper intensity and mass effect.
Can demonstrate leptomeningeal enhancement over the region of abnormality, however the "mass" itself doesn't enhance.
HOW TO DIFFERENTIATE FROM GLIOMA:
KEY to differentiating it from glioma is to perform a T2* or preferably Susceptibility Weighted Image ( SWI) (link to post on which is better T2* or SWI). This will show the other findings of cerebral amyloid ( cortical micro bleeds or leptomeningeal hemosderosis ) in the remainder of the brain and or in the lesion. This gives you the clue to think about tumefactive cerebral amyloid.
If suspect on MRI, treatment is with steroids not surgery and lesion will resolve with steroids. If performing brain biopsy, direct the surgeon to obtain leptomeninges and cortex in the biopsy as these areas will contain the amyloid deposition which are less likely to be in white matter.
SAMPLE IMAGES
Images demonstrating: (A) mass effect, (C) No enhancement, (D) Multifocal areas of hemosiderin and, (E) Almost resolution post treatment with steroids. Reference 1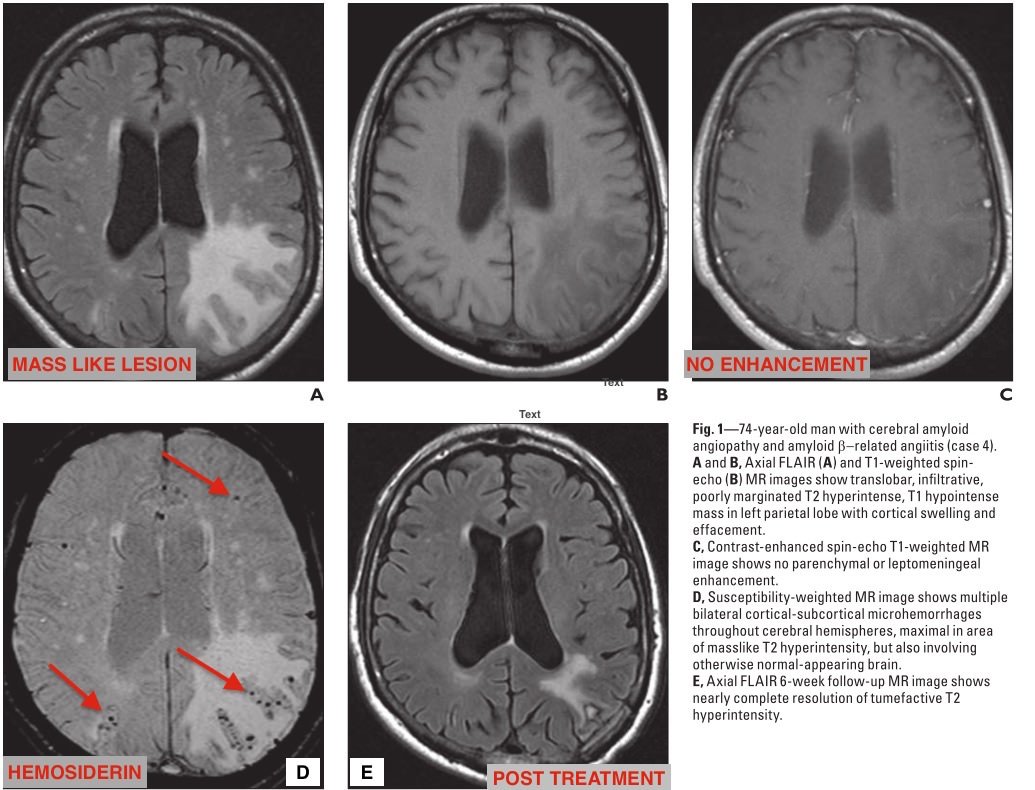 Images below demonstrating Leptomeningeal enhancement in Tumefactive Cerebral Amyloid ( Image from Reference 1)
Got a question about this? Let us know.
If you found this article useful please forward this to your colleagues or Like us on FB. 
References and images adapted from:
1.Tumefactive cerebral amyloid angiopathy mimicking CNS neoplasm: AJR 2013 Kotsenas et al
2. Cerebral amyloid angiopathy-related inflammation presenting with steroid-responsive higher brain dysfunction: case report and review of the literature. Journal of Neuroinflammation 2011 Sakaguchi et al
#radedasia #mri #mskmri #radiology