Hemi Bucket Handle Tear MRI
The standard meniscal bucket handle tears begin as vertical tears with the torn fragment then flipping into the inter condylar region or if one of the attachments of the bucket handle is also torn, the fragment can flip anywhere in that compartment.
A variant of these is the so called Hemi Bucket Handle tear which commences as a horizontal, rather than a vertical, tear of the meniscus. This means that the usual criteria we use for assessing a bucket handle tear of reduced bow ties on the sagittal scan or a small body on the coronal scans may not work.
Hemi Bucket Handle Tears: What Happens

The diagram below demonstrates how the tear occurs. A horizontal section of the meniscus is torn and displaced, however the tear is not through the entire meniscus in the superior inferior direction,  a portion of the body of the meniscus remains intact.
Image Above: From Hemi-bucket-handle tears of the meniscus: Appearance on MRI and potential surgical implications Bjorn I. Engstrom et al Skeletal Radiol (2012) 41:933–938
MRI Appearance of a Buckethandle Tear ( Vertical Tear)

In the usual buckethandle tear that arises from a vertical tear, the tear extends all the way superior inferior, and the entire torn portion of the body is displaced, leaving a small residual body.
Image Above: Blue arrows residual body of meniscus. Pink arrows entire inner two thirds of body missing. Torn and displaced into intercondylar fossa.

Hemi Bucket Handle Tears MRI Appearance:

In hemi buckethandle tears, the tear is horizontal so the entire inner part of the body wont be missing. Only a horizontal portion will be missing ( in the case below its the lower half, leaving the superior portion still intact). The blue arrows demonstrate an intact upper half with the pink arrows demonstrating the torn and displaced inferior half.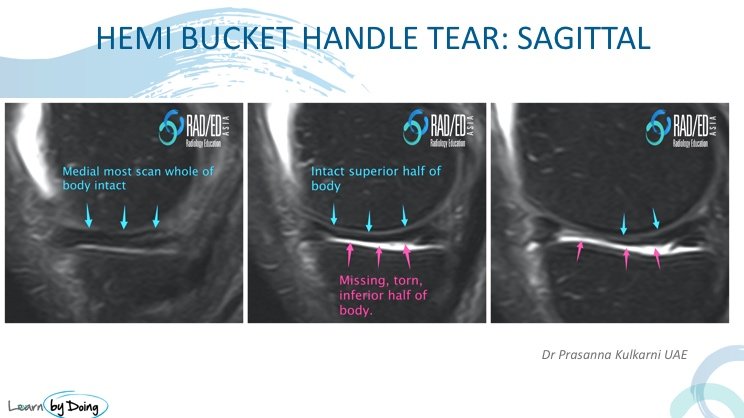 Thank you to Dr Prasanna Kulkarni

Thank you to Dr Prasanna Kulkarni  who attended our last workshop in the UAE, for the images of the hemi bucket handle tear and the article details.
Read More: Hemi-bucket-handle tears of the meniscus: Appearance on MRI and potential surgical implications Bjorn I. Engstrom et al Skeletal Radiol (2012) 41:933–938

#radedasia #mri #mskmri #radiology