The workshop is now full. If you would like to be on the wait list in case of cancellations, please email Alice on info@radedasia.com
Radiology Conference 2018 Philippines Manila Small Joints MSK MRI Mini Fellowship and Workstation Workshop (Ankle, Elbow, Hand/Wrist)
Registration is now open for the Mini Fellowship and Workstation Workshop in Manila Philippines in conjunction with CTMRISP, covering the Small  Joints ( Ankle, Elbow, Wrist/ Hand) and will be held on August 25-26th 2018 in Manila. We will cover all the major and common abnormalities seen in these joints. We will be running the teaching as a Mini Fellowship with a structured 30 Day  Pre Workshop Learning with dicoms, how to videos and posts to get you the basic information before the workshop, then a 2 Day Workstation Workshop learning to assess 100's of dicoms followed by a 30 Day Post Workshop review Programme to refresh and help retain what you have learnt. The fellowship is aimed enabling you to learn, practice and retain knowledge and to go back to work reporting the MRI scans on your list more confidently and accurately.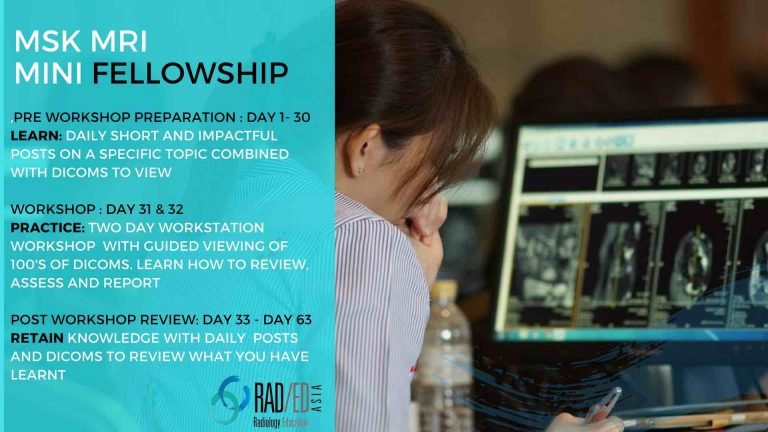 We will also have a redesigned and improved workbook and there will be a lot more quizzes which have been really well received in recent workshops. Our aim is for you going back to work and reporting the MRI scans on your list more confidently and accurately.
CPD POINTS will be allocated and will be coordinated by CTMRISP and RANZCR.
VENUE: Conrad Manila has been confirmed as the venue.
SAMPLE VIDEO IN THE PRE WORKSHOP COURSE

03 Day 3 Meniscus Complex Tears Maceration and Displaced Fragments from Radiology Education Asia on Vimeo.
CME: CME/CPD Points will be awarded and coordinated by CTMRISP ( 13 CPD Pints allocated by PRC). RANZCR has allocated 33.5 CPD points for the workshop. These points are recognised by most international colleges and Health Authorities.  RCR will recognise points awarded by RANZCR. .
VENUE: We have confirmed the Conrad Manila  as the venue.
#radedasia #mri #mskmri #radiology