Radiology Conference Johannesburg South Africa MSK MRI Mini Fellowship and Workstation Workshop Large Joints  covering Knee, Hip and Shoulder. This workshop will be held in the first half of 2019. Dates will be announced shortly.
We will cover the common and most important abnormalities in each area. We will be running the teaching as a Mini Fellowship with a structured 30 Day Pre Workshop Learning with posts, instructional videos and dicoms to cover the basic information before you get to the workshop, a 2 Day Workstation Workshop where we will concentrate on viewing and interpreting 100's of dicoms and then a 30 Day Post Workshop review Programme to recall and reinforce what has been learnt.  All aimed at you going back to work and reporting the MRI scans on your list more confidently and accurately.
To download the Pre Workshop Course Agenda Please click HERE
To download the Workshop Programme Please click HERE
(The workshop is aimed at registrants with limited to intermediate knowledge of MSK MRI. If you have significant experience in MSK MRI or have done a MSK MRI fellowship our more advanced MSK workshop would be more suitable for you)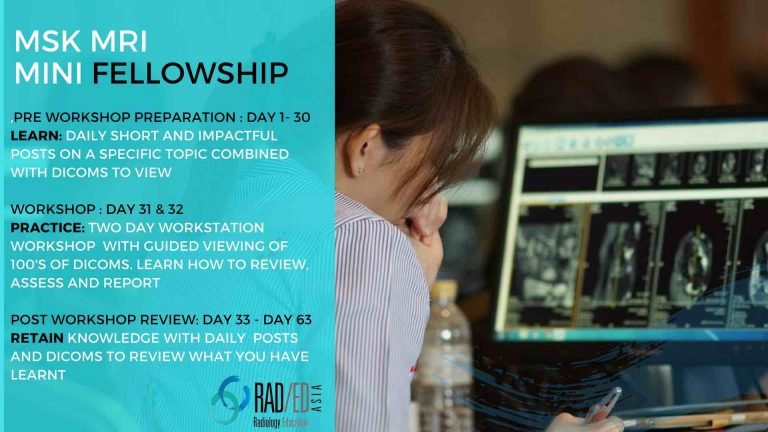 The Mini Fellowship is aimed at enabling you to learn, practice and retain knowledge.

We start 30 days before the workshop with a Pre Workshop Preparatory Course which will be concise and structured teaching of the important MSK abnormalities and will incorporate posts, videos on how to assess and find abnormalities and full dicom viewing so that you will have a lot more knowledge before you come to the workshop. The course will have all the information required for you to get a head start on diagnosis.. We aim for you to have a very sound knowledge of the abnormalities before you get to the workshop.
The 2 Day Workshop will then be focused on guided review of 100's of cases on individual workstations and we will concentrate on viewing, diagnosing and reporting the dicoms like you do at work.
Post workshop 1 Month Review to consolidate and refresh what you have learnt.
We will also have a redesigned and improved workbook and there will be a lot more quizzes which have been really well received in recent workshops. Our aim is for you going back to work and reporting the MRI scans on your list more confidently and accurately.
SAMPLE VIDEO IN THE PRE WORKSHOP COURSE
WHAT DO PEOPLE SAY ABOUT THE WORKSHOPS
CLICK ON IMAGES FOR PRE WORKSHOP COURSE AGENDA AND WORKSHOP AGENDA
DATES AND VENUE:
The workshop in RSA will be held in 2019 in the first half of the year. We are in the process of confirming the dates and the venue. All our workshops are held in 5 star hotels.
#radedasia #mri #mskmri #radiology