Cord Oedema From Cystic Arachnoiditis
Subluxation at C1/2 in Rheumatoid Arthritis can occur in three directions.
Spinal arachnoiditis can have various appearances. One of the more severe forms, cystic arachnoiditis, can result in cord signal abnormality which can be very extensive. This post looks at why cord oedema develops in cystic arachnoiditis and its MRI appearance.
PATHOLOGY
Normally there is two way flow of CSF between the central canal/ cord and the subarachnoid space and vice versa. Overall net flow is into the cord.
Arachnoiditis  can result in septations, intra dural arachnoid cyst formation and tethering of the cord.
Cord tethering and septations can result in abnormal CSF flow dynamics with net increase in fluid and interstitial pressure in the cord which can lead to syrinx formation, cord oedema or both.
Cord oedema and syrinx formation may begin at the level of the septation or cyst but can be extend quite distant to them.
MRI FINDINGS: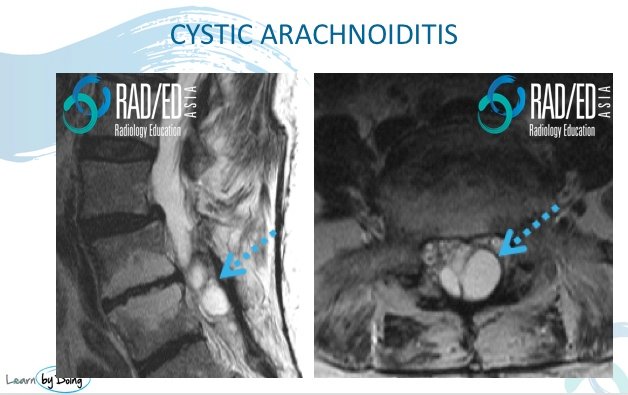 Image Above: Cystic changes and septation in the lumbar thecal sac. Normal distribution of nerve roots not seen.

Image Above: Subarachnoid cystic change with cord compression secondary to cystic arachnoiditis.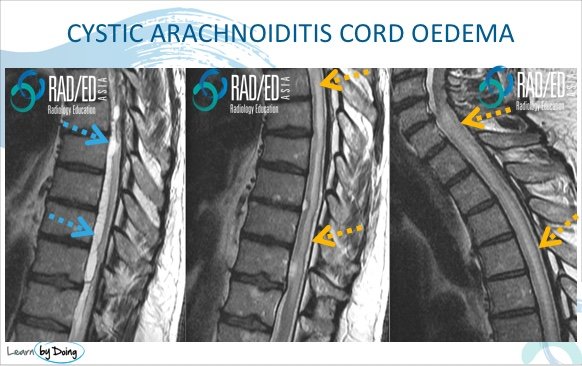 Image Above: Cystic arachnoiditis with cord oedema. Cystic subarachnoid change (blue arrows). Extensive cord oedema (yellow arrows) secondary to altered CSF flow and fluid accumulating in the cord.
RELATED POSTS THAT INCREASE YOUR DEPTH OF KNOWLEDGE ON THIS TOPIC. Click on the images below:
CONTINUE YOUR LEARNING WITH ONLINE RADIOLOGY COURSES. Click on the image below:
What's the Purpose of the Tuesday Tips? Many of the Tuesday Tip posts arise from questions or difficulties that people bring up in the Mini Fellowships. These posts are meant to be short and concise to answer those questions.
#radedasia
#radedasia #mri #mskmri #radiology