Romanus Lesion is a term used on x-ray and CT and on MRI is called a Corner Inflammatory Lesion and these occur in Spondyloarthropathies like ankylosing spondylitis. The changes are seen at the endplate corners and are due to an enthesitis  at the attachment of the annulus fibrosis to the vertebral body.  There is a progressive development of changes that:
Starts with inflammation,
Can then result in erosion
With chronicity as the inflammation reduces and is replaced by fatty metaplasia.
And at the end stage, there can be sclerosis.
This post looks at the CT and X-ray appearance of Romanus Lesions.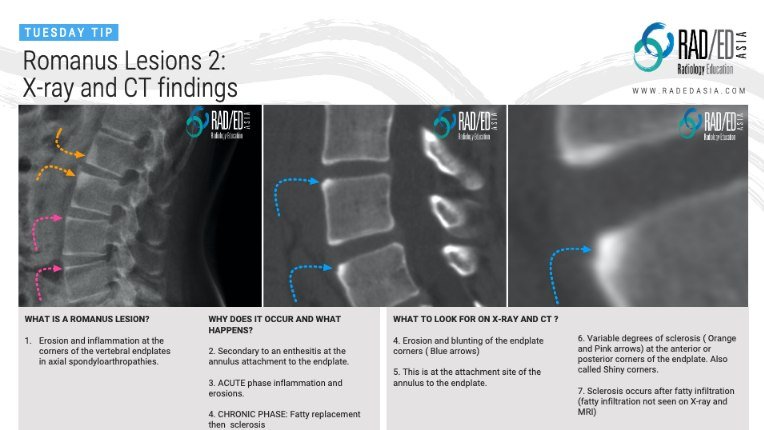 Thank you to Dr Joe Thomas Rheumatologist for his involvement with this post.
We look at all of these topics in more detail in our SPINE MRI Mini Fellowships.
Click on the image below for more information.
#spinemri #rheumatology #arthritis #rheumatologist #spondyloarthritis #ankylosing spondylitis
#radedasia #mri #mskmri #radiology