Today's Tuesday Tip continues with Enthesitis and Romanus lesions in ankylosing spondylitis. The changes seen at the endplate corners in enthesitis are progressive.
It starts with inflammation,
then erosion
and as the inflammation reduces that region is replaced by fatty infiltration
and at the end stage, by sclerosis.
This post looks at the CT and X-ray appearance of Romanus Lesions. Thank you to Dr Joe Thomas Rheumatologist for his involvement with this post.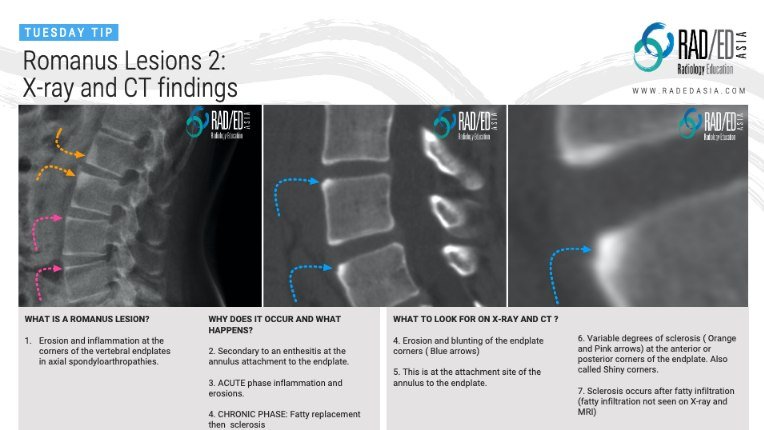 RELATED POSTS THAT INCREASE YOUR DEPTH OF KNOWLEDGE ON THIS TOPIC
Whats the Purpose of the Tuesday Tips?: Many of the Tuesday Tip posts arise from questions or difficulties that people bring up in the Mini Fellowships. These posts are meant to be short and concise to answer those questions.
CONTINUE YOUR LEARNING WITH ONLINE RADIOLOGY COURSES AND CONFERENCES
#radedasia