ACROMION ACROMIAL SPUR MRI RADIOLOGY : WHAT TO LOOK FOR ON CORONAL SCANS
What do Acromial spurs look like on MRI.
Acromial / Acromion spurs can be small and difficult to see on MRI.
Acromial spurs can be assessed on coronal and sagittal scans and this post looks at the MRI appearance of acromial spurs on coronal scans.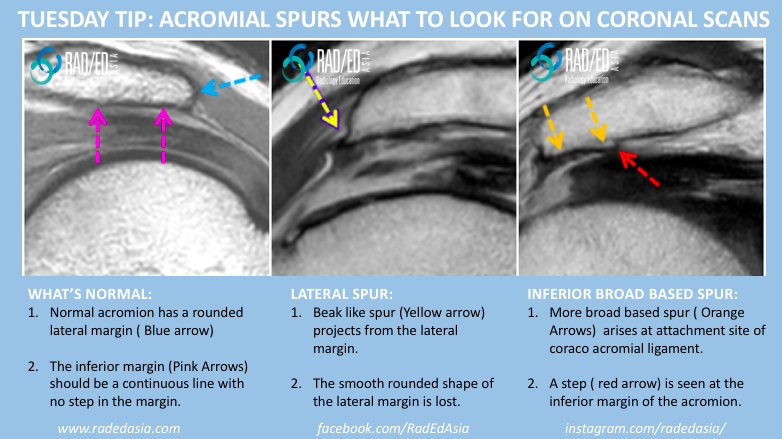 Normal acromion has a rounded lateral margin (Blue arrow).


The inferior margin (Pink Arrows) should be a continuous line with no step in the margin.

Beak like spur (Yellow arrow) projects from the lateral margin.
 

The smooth rounded shape of the lateral margin is lost.

More broad based spur (Orange Arrows) arises at attachment site of coraco acromial ligament.
A step (red arrow) is seen at the inferior margin of the acromion.

For all our other current MSK MRI & Spine MRI
Online Guided Mini Fellowships.
Click on the image below for more information.
Join our WhatsApp Group for regular educational posts. Message "JOIN GROUP" to +6594882623 (your name and number remain private and cannot be seen by others).


Get our weekly email with all our educational posts: https://bit.ly/whathappendthisweek
#radedasia #mri #mskmri #radiology